The 80th annual Mountain Dance and Folk Festival got underway last night in Asheville, NC. It's the oldest continuously running folk festival in the United States. "Even the moon came out over Beaucatcher Mountain and laughed in the spirit of the occasion," said one of the local newspapers at the inaguaral festival in 1928.
What started as the Rhododendron Festival of 1927 was transformed into what we today recognize as a 'folk festival' by Bascom Lamar Lunsford (1882-1972). Lunsford was a superb mountain musician who spent his life hunting down the songs, dances and unknown performers of the Appalachian region. Friends said he would cross hell on a rotten rail to get a folk song. He performed at the festival every year until he suffered a stroke in 1965.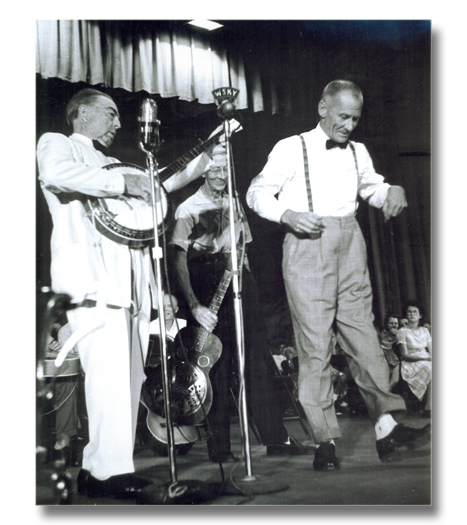 As a young man, Bascom Lamar Lunsford practiced law, sold fruit trees, managed democratic political campaigns, worked as an auctioneer, and waltzed through other professions before returning to his first love, mountain music and dancing. Ultimately he performed for both Franklin D. Roosevelt at the White House and in England for King George VI and Queen Elizabeth. He recorded his "memory collection" of some 350 songs, tunes, and stories for Columbia University in 1935 and the Library of Congress in 1949. His collection of songs (not just his own) make up the largest oral archives in the Library of Congress (The Archive of Folk Song).
"Lunsford often referred to old singers dying with their treasures of ballads, of the old ways dying out, of the progressive pushing out the traditional and of the failure of the young to appreciate the value of old ways. He started a festival to showcase traditional musicians and dancers at a time when most of his peers were clamoring for the fruits of the industrial age, and in fact, used a largely phoney tourist-attracting promotional effort to present his 'authentic' show. He invested in the real estate boom that was a major threat to the very traditional culture that he cherished.

"He was of the folk and yet he was also middlestream mountain gentry. True, this made him uniquely able at enlisting the participation of almost all types of people in the mountains because, in addition to his enthusiastic and engaging personality, he could converse with one and all within the framework of their interests and understanding.

"One has to remember, however, that in addition to his presenting authentic folk talent around the country, he also traveled for the Asheville Chamber of Commerce puffing the virtues of the Land of the Sky and giving a shameless argument as to why the well-to-do should spend their money in Western North Carolina. The politicians he promoted for public office were those who looked after the progressive business interests of his area."

Minstrel of the Appalachians: The Story of Bascom Lamar Lunsford by Loyal Jones, University Press of Kentucky, 2002
Sources: "Finding the Way between the Old and the New: The Mountain Dance and Folk Festival and Bascom Lamar Lunsford's Work as a Citizen" by David Whisnant. Appalachian Journal, Volume 7 No. 1-2. (Autumn-Winter 1979-80)
http://www.hoobellatoo.org/fnotedetail.cfm?FNID=9
http://www.jarretthousenorth.com/annex/Family/genealogy/PS06/PS06_107.HTM
Bascom+Lamar+Lunsford Mountain+Dance+and+Folk+Festival Asheville+NC appalachia Appalachian+ballads appalachian+culture appalachian+history history+of+appalachia