"I would like to go back and carry a few lap-links in my pocket, just in case the hoss busts a trace chain. I want to tie the rawhide ham-string once more and adjust the back-band til it is just behind the hoss's withers. I want to tie my shoes again with laces made of groundhog hide.
"I want to go back where the ducks and geese are picked every month; where corn and taters are planted, and soap is made by the signs of the moon; where "warnits" and hickory nuts are gathered in the fall for the winter mast; where the folks still dig roots and herbs to buy their winter boots and shoes; and where these same boots and shoes are greased with sheep or beef taller; where the peggin' awl is still in use; where Arbuckles coffee is parched in the stove and ground in a mill held in grandpa's lap; where some of the menfolk tied the brooms with home-grown broomcorn; where they make popguns out of elders and shoot paper wads in them.
"Yes, I want to go back where they drink sassafras tea in the spring-time to thin their blood; where they churn with the old up and down churn-dasher; where they turn the churn of cream around as it sits by the fireplace in the big house, so it will get in the right form for churning; where goose quill toothpicks are still in use; where they still boil the clothes and use bluin'; where they refill the straw ticks right after thrashin' time and where they wear long flannel drawers.
"Yes, I want to go back to the country and get my fill of cracklin' bread. I want to see the people eat again and shovel it in with their knives. I want to go to the neighbors to borrow the gimlet. I want to go back where they eat three meals a day…breakfast, dinner and supper…and the word "lunch" will never be heard again.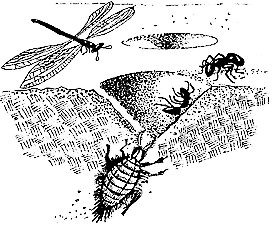 Antlion larvae, or doodlebugs
"Yes, I want to go back and make another corn-shucker out of locust. I want to strip some cane and top it and dip the skimmin's offen' the bilin' molasses. I want to go to the neighbors for a bushel of seed corn, or shell a 'turn' of corn and take it to the mill for bread and watch as the miller measured out his toll for the grinding. I'd like to call a few doodlebugs outen' their holes, but I want to avoid the spanish needles, the cuckleburrs, and the chiggers that make life unbearable, and to avoid stone bruises forever."
Too Late For Flowers
Never Too Late For Tears
By Roy L. Sturgill
Historical Sketches of Southwest Virginia, published by the Historical Society of Southwest Virginia, Publication 12, 1978
http://www.rootsweb.com/~vawise/HSpubl72.htm
Roy+L.+Sturgill Historical+Society+of+SW+Virginia appalachia appalachian+culture appalachian+history appalachia+history history+of+Appalachia