"The T. stands for Taliaferro. I was named after Booker T. Washington. My people came from Sherrill's Fort in Catawba County, NC. I was brought up by my mother, but in 1920, came to Asheville to live with my father. I went to high school at Bennett in Greensboro, NC and two years at Livingston College in Salisbury. I was sorry I couldn't finish but went into the hotel work. Booker T. Washington's philosophy was 'drop your bucket wherever you are,' and I have done well.
"Asheville was hit hard by the Depression. Work was hard to find, but I worked in the Langren Hotel from 1930-1933 and the Battery Park from 1934 until it closed in 1972. When I worked at the Battery Park for 38 years, blacks couldn't go in the front door – now I am living here!
"I had a 'hotel reputation.' During those times there weren't many jobs open to blacks – chauffeuring, working at Oteen or in hotels. It was hard getting work in the railroad unless one had good connections. Many blacks were on WPA but I was always employed. Bellmen were paid $1 a day and depended on tips and didn't anticipate Social Security, where benefits were based on how much they had paid in.
"The Langren Hotel (below) was one of the largest in the area in the 20's, catering mostly to business men. A good room cost $1.50 a night and a corner room $3. The price was comparable to the Battery Park but the clientele was different. The Vanderbilt and Battery Park catered to tourists.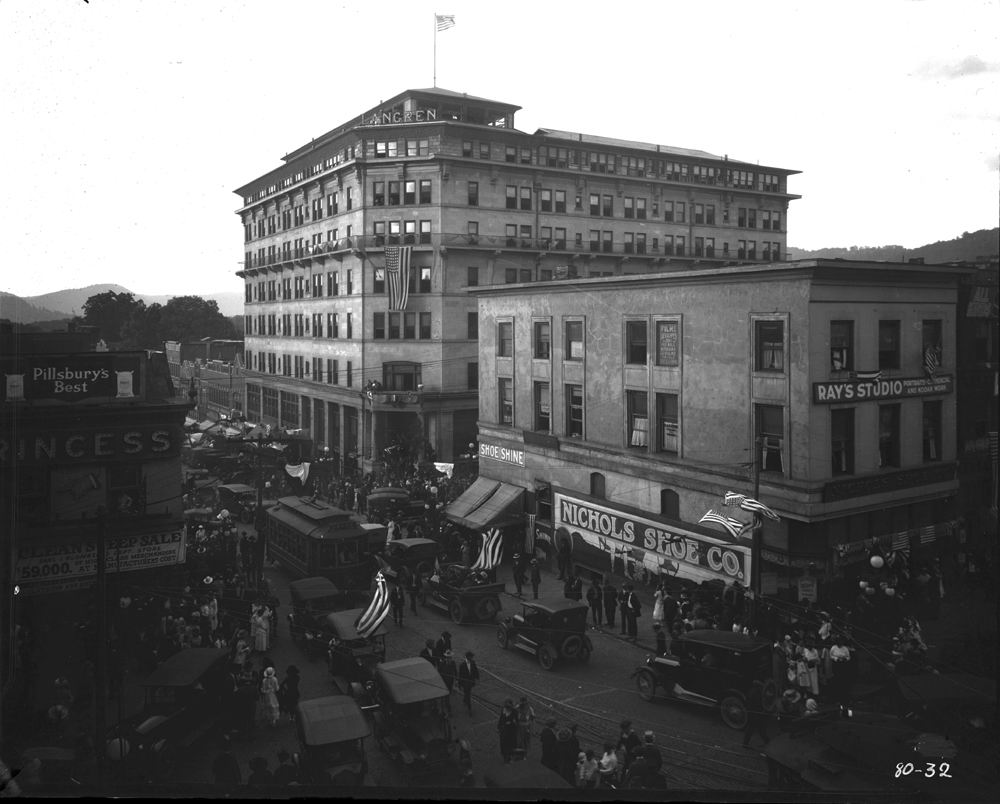 "In 1933 I lost my job at the Langren and went to Florida for the season. I returned to my wife and daughter and, after applying around, came here and worked under Charles Sisney, a famous, widely known bell man who died in 1935.
"My first wife was 16 when we married, and the marriage broke up. In 1936 I remarried a lady with the same name as a character in "Amos 'n' Andy" radio program. [Ruby Taylor]
"We were married on Saturday, August 1936, and the following day Martin Moore confessed to murdering Helen Clevenger, who was visiting the hotel with her uncle in room 224. The sheriff hired a detective from New York who found a weapon in Moore's house. Moore was tried, convicted and executed. People in the hotel were reluctant to go on the 2nd floor.
"I was off duty during the time of the 1936 murder and was not questioned but there were bad feelings about this. Some think it was never solved. Some think the son of the manager was to blame. It upset this city and it took 8-10 years for the people to relax. Room #224 was permanently blocked. Although I kept my thoughts to myself, I don't think Moore, a relatively new night janitor, had the mentality to commit the crime."
Booker T. Sherrill
Asheville, NC
(1907-2003)
Source: http://toto.lib.unca.edu/findingaids/oralhistory/VOA/S_Z/Sherrill_B.html
Asheville+NC Langren+Hotel appalachia appalachian+history appalachia history+of+appalachia